Kuraray MOWITAL® Technology Scouting
Kuraray Mowital® Technology Scouting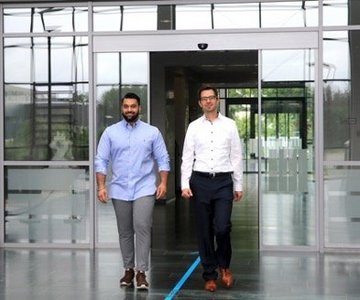 Polyvinyl butyral resins (PVB) are making a name for themselves in more and more areas of application. PVB plays to its strengths not least in the manufacture of high-tech ceramics. At Kuraray, the European market leader for PVB resins, the corresponding product line bears the name MOWITAL®. Outstanding properties of MOWITAL® include excellent adhesion and film formation properties, high bond strength and exceptional optical transparency. Kuraray has a "Technology Scouting Team" that supports companies in MOWITAL® application scenarios and develops their applications together with them. In our article, two members of this scouting team talk about established and new application areas for PVB resin: Dr. Florian Mummy, Senior Manager Research & Development, and Gurshranjit Singh, Technical Sales & Business Development Manager for MOWITAL® in Africa and Asia-Pacific at Kuraray Europe. Among other topics, they talk about the advantages of PVB in the production of ever smaller multilayer ceramic capacitors (MLCCs) and the opportunities that PVB opens up as a component of ceramic filaments or composites for additive manufacturing.
High-tech ceramics thanks to PVB
Dr. Florian Mummy: "You have to see that with the use of polyvinyl butyral resins today, the limits of what is possible in the production of high-tech ceramics are expanding more and more. One example is microelectronics: manufacturers of multilayer ceramic capacitors have been able to push miniaturization further and further over the past decades thanks to PVB. Ten years ago, we were still talking about ceramic layer thicknesses of several micrometers for MLCCs. Today, 1 micrometer has already become the standard. For the future, manufacturers are already aiming for miniaturization in the high-end range, with a thickness of less than 100 nanometers! This is because the capacity of today's MLCCs, with their more than 1000 layers, depends heavily on the thickness of the individual ceramic layer. Countless devices, from smartphones to IoT devices, would be inconceivable without these tiny components. And undeniably, Mowital® and PVB in general have played a major role in the miniaturization successes."
Gurshranjit Singh: "Yes, these advances in miniaturization are an impressive and continuous process. For many years now, PVB resin has been added as a binder to the ceramic slurries used for tape casting of MLCCs. Mowital® is well established and proven in the production processes. And it is 100 percent RoHS-compliant. Demand from manufacturers is unbroken, the PVB boom continues. But the demands on performance are now even higher when it comes to advancing into the region of less than 1 micrometer layer thickness – thus increasing the performance and capacity of MLCCs.
That is why it is so important to consider together with our customers exactly which Mowital® grade is the right one for the specific application. As a technology scouting team, we provide our in-depth scientific knowledge and expertise in developing products, processes and technologies in order to make them faster, smarter as well as more innovative. In principle, of course, it is true that particularly high-molecular PVB grades have even better mechanical properties, like tensile strength and green sheet elongation. In addition, high-molecular Mowital® grades provide high resistance for organic solvents typically used for conductive pastes. But ultimately, one thing is always decisive: For us, it is a matter of finding the right balance between the various properties of the PVB for the individual application. For example, between flowability of the ceramic slurry on the one hand and mechanical stability of the corresponding green sheet on the other.
Recently, other exciting applications for PVB have emerged – for example, as a component of ceramic filaments or ceramic composites for additive manufacturing."
Dr. Florian Mummy: "That's right, a lot is happening there right now as well. In principle, polymethyl methacrylate (PMMA) could also be used as a binder for 3D printing of technical ceramics. However, an important advantage of PVB is that the macromolecule itself provides the right proportion of the oxygen required for burnout. This prevents hotspots from forming during burnout, precisely because this does not have to happen at a high O2 concentration. In addition, PVB can be burned out at a lower temperature. The great advantage of PVB is that its addition as a binder ensures that mechanical and dimensional stability is maintained during burnout. And if the binder is not to be burned out: With PVB, the filaments do not need to be mechanically smoothed to polish the surface. Non-thermal melting of the surface is sufficient for finishing."
Gurshranjit Singh: "MLCC tape casting and ceramic filaments or composites for 3D printing - these are just two current fields of application for Mowital®. Perhaps a brief look at our latest application scenario is still worthwhile."
Dr. Florian Mummy: "That would be the use of Mowtial® in the additive manufacturing of catalysts. Research is currently looking at using 3D printing to produce ceramic catalysts. For catalyst technology, this means a quantum leap. Additive manufacturing could be used to produce ceramic support structures in a very targeted manner - a drastic increase in the catalytically active surface area promises significantly higher conversion rates and substantially increases the efficiency of the catalyst. Even sustainability in catalyst manufacturing could improve, as a 3D-printed catalyst requires less rare earths or precious metals for the same performance."
Gurshranjit Singh: "I am convinced that we have not yet tapped into all the fields of application for polyvinyl butyral in the various industries. Additive manufacturing of technical ceramics is a very young field. And I think we are both looking forward to exploring all this potential together with our customers. There is still a lot to discover."
cfi Newsletter Hot Topics 2/2022 – Part 1 (Göller-Verlag)
Back