Printed Electronics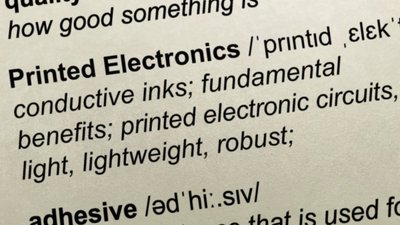 MOWITAL Technology Scouting:
Our expertise for your development projects: MOWITAL® enables conductive inks for printed electronics
Printed electronics are arriving in our daily lives
Printed electronics (printed circuits) are becoming increasingly common in our daily lives. The ability to print electronic circuits onto three-dimensional surfaces is creating new possibilities in many different fields of application. Examples are functional surfaces in automotive engineering and exciting applications such as smart buildings. In entertainment electronics, printed circuits are used for flexible OLED displays while in medical technology they are used, for example, in electronic patches to monitor heart conditions and diabetes. Moreover, printed electronics are driving forward the Internet of Things (IoT) and enabling smart packaging and smart clothing innovations.
Fundamental benefits of printed electronics
Being able to print electronic circuits easily onto surfaces has many benefits. The circuits are thin, lightweight and robust and can be integrated into existing products using a simple, additive process because they can simply be printed onto different surfaces such as paper, plastic film, metal foil, textiles or ultra-thin flexible glass. That is why analysts are convinced that this global growth market will be worth tens of billions in a few years time.
MOWITAL® as a binder for the inks
Conductive inks are the basic prerequisite for printed electronics. Often the functional materials in these inks are conductive metal particles such as gold, silver or copper, or, alternatively, conductive carbon. In addition to the conductive material, the inks need a suitable binder. Polyvinyl butyral (PVB) has become established for this because of its ideal properties. Kuraray's polyvinyl butyral resins are known as MOWITAL®. MOWITAL® is often used in conductive ink formulations because it stabilizes insoluble pigments in the ink and improves the rheological properties and adhesion of the inks during printing.
Advice that gets to grips with the variables
Dr. Florian Mummy, Senior Manager R&D for the MOWITAL® brand and a member of the Technology Scouting Team at Kuraray, stresses the key role that advice from Kuraray's experts can play: "There are so many variables in the manufacture of printed electronics. For example, it's possible to use organic or inorganic semiconductors, dielectrics or graphene. And there are just as many printing processes – and printable substrates that can be used. Therefore, it's worthwhile making sure you select the most suitable MOWITAL® grade for your application from the wide range of resins available."