Superior composites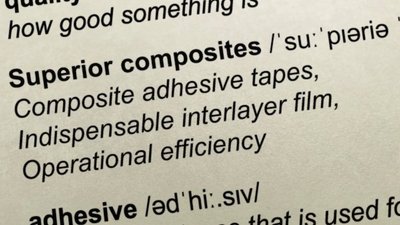 MOWITAL Technology Scouting:
Our expertise for your development projects MOWITAL®: Superior composites thanks to PVB interlayer film
The adhesive tape market is growing
The adhesive tape market is a particularly dynamic sector of the packaging industry. This is because the demand for packaged goods is growing rapidly, if only because of the global expansion of the e-commerce industry. Polyvinyl butyral (PVB) is currently providing an important innovation in the adhesive tape sector. PVB, which is known for its remarkable adhesive properties as well as its durability, is becoming an indispensable interlayer film in composite solutions. This involves the use of a PVB thin film, which Kuraray manufactures under the brand name MOWITAL®.
Why adhesive tapes are often superior to traditional fastening systems
Adhesive tapes like PVB thin film are often particularly well suited to replace traditional mechanical fastening systems. Composite tapes can, for example, take the place of nuts, bolts, screws or rivets. These conventional fasteners often tend to fail under pressure and have limited long-term reliability. Composites with a MOWITAL® interlayer do not experience these problems.
Kuraray consulting services for composites manufacturers
Gurshranjit Singh, Technical Sales and Business Development Manager of the MOWITAL® brand and member of the Technology Scouting Team at Kuraray, advises manufacturers. He says: "The adhesive tape market will grow considerably in the coming years. The volatility of raw material prices may create challenges, but innovative adhesive tapes like the PVB thin film open up completely new opportunities. This is because PVB contains hydrophilic vinyl alcohol groups and hydrophobic vinyl butyral groups, which act as promoters for polymer adhesion and as binders for organic components. PVB therefore offers specific properties as an adhesive interlayer: such as robust bonding ability, more optical clarity and better flexibility."
Five advantages of composite with MOWITAL®
These physical properties of PVB thin film are what make it so interesting as an intermediate layer for composites. Such composites offer five key benefits.
Longer product life: Less risk of material breakage, longer product life.
Better product design: PVB thin films are flexible, resist rust and corrosion.
Operational efficiency: Simpler manufacturing and assembly processes with reduced production time and costs.
Better performance: Performance and effectiveness of the composites are fundamentally improved, with lower material costs.
Environmental benefits: Any shape is conceivable and can be flexibly tailored from PVB thin film. This makes the production process more sustainable as there is less waste and also no need to use solvents to bond substrates.