Trends in 3D printing
Florian Mummy, Senior Manager R&D, Gurshranjit Singh, Technical Product Manager, Kuraray Europe
What are the trends you see in 3D printing?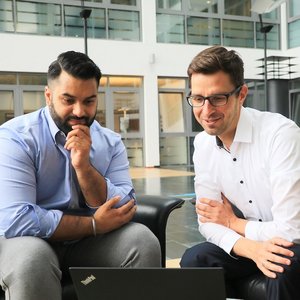 The 3D industry is developing more and more in the direction of hybrid printing. This offers the possibility of combining two different materials in one component with only one production step. Metal and ceramic prints in particular are becoming increasingly interesting, as their use in the industrial sector opens up new possibilities. The mechanical and physical properties in the printing process are also supported by the PVB acting as a binder. The 3D printing market is increasingly saturated with materials to be printed, but this does not apply to the binders that are used. In recent years, exotic materials have also entered the market, such as gold for printing gold jewellery. The printing of finer components and especially the speed of the printing are in focus in my estimation. In addition, the combination of 3D printing with printable electronics could create a new potential market and new applications would be conceivable.
What highlights will you be showing at Formnext?
We are showing a binder that has been used in the automotive industry for years. Thanks to its broad spectrum of properties, MOWITAL® is the ideal additive accompanying ingredient for experimenting with new technologies and formulations. The environmental aspect should also be mentioned here. Let's look again at the example of ceramic printing. In the sintering process, MOWITAL® is completely burnt as a temporary binder, so that only water vapour and carbon dioxide are produced, but no toxic gases. We will also present another Kuraray product product MOWIFLEXTM for use as a support material in 3D printing. It is water-soluble and can simply be washed off with water after printing without leaving any traces at the contact points. In this way, MOWIFLEXTM can be used to print support structures for complex, filigree and overhanging objects. Find more information about 3D printing here.
Source: https://wbm-publish.blaetterkatalog.de/frontend/mvc/catalog/by-name/INP?catalogName=AMI%201-2022
(You will find the relevant article on page 14 of the catalogue.)