Fuel Cells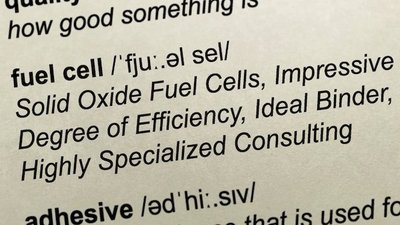 MOWITAL Technology Scouting:
Our expertise for your development projects MOWITAL®: The ideal binder for solid oxide fuel cells (SOFCs)
Solid oxide fuel cells are making headway
Solid oxide fuel cells are becoming more and more important. Various development projects highlight the enormous potential of these high-temperature fuel cells, especially for industrial applications. Although SOFCs are quite heavy and have a high operating temperature of approximately 600 - 800 °C, they deliver consistently high energy. That is ideal for industrial purposes.
Impressive efficiency
The efficiency of SOFCs is particularly impressive. Typical modules can easily generate 100 kW power with around 60 percent efficiency. The heat generated can also be utilised, so overall efficiency of 90 percent is realistic. SOFCs can be used, for example, for highly efficient electric charging stations or distributed energy supply systems. There are even plans for large module parks in the megawatt range.
Ceramic substrate layers for SOFCs
One challenge in the manufacture of SOFC modules is bonding the various substrate layers in each individual SOFC because they are highly sensitive to contamination and coarse particles. The MOWITAL Technology Scouting Team is a partner in current SOFC projects because MOWITAL® – the polyvinyl butyral (PVB) from Kuraray – has proven to be an optimum binder.
MOWITAL® PVB resins are ideal binders
The advantage of Kuraray's PVB resins is that they disappear after firing of the substrate layers – when they have performed their function as a binder. Gurshranjit Singh, Technical Sales and Business Development Manager for the MOWITAL® brand and a member of the Technology Scouting Team at Kuraray, explains the use of PVB resins: "It's always very important to look at the specifics of the production process. The conditions in the system are the key to selecting the right PVB grade from our extensive range."
Individual advice is essential
The Technology Scouting Team therefore provides advice for SOFC manufacturers. "Sometimes grades with a high molecular weight such as MOWITAL® B75H are most suitable", says Singh. "In any case, close collaboration with the SOFC manufacturer is very important. We can use our laboratories to answer specific questions. Experience has repeatedly shown that actively advising our customers is vital for the success of projects. The production of modern SOFCs is another case in point."