PVB materials are taking 3D printing to the next level of evolution
"PVB materials are taking 3D printing to the next level of evolution"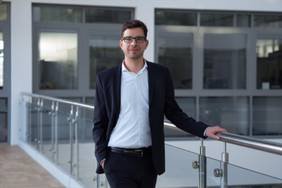 PVB printing filaments such as those based on MOWITAL® make for higher quality and efficiency in 3D printing. Interview with Dr. Florian Mummy, Research and Development Laboratory Manager at Kuraray
Hattersheim/Frankfurt am Main, March 2019. PVB printing filaments such as those based on MOWITAL® offer significant advantages for 3D printing compared to PLA and ABS filaments – now and in the future. Dr. Florian Mummy is the research and development laboratory manager at Kuraray, one of the world's leading manufacturers of specialty chemicals. In the following interview, he explains how PVB-based filaments considerably improve processes and quality in 3D printing. Thanks to their unique properties, these filaments form the basis for future manufacturing methods, while simultaneously preserving the environment.
Next Level in 3D printing
Dr. Mummy, what developments do you expect for the future in terms of 3D printing?
Dr. Florian Mummy: We're currently in the second of three evolution phases. In the past, 3D printing was favored for use in development for the rapid manufacture of prototypes. Today, companies are already producing high-volume individual functional components for end use with 3D printers. In the future, additive manufacturing will become an Industry 4.0 standard. Customized products printed on an industrial scale using 3D printers will then become part of everyday life. But that is still quite a way off.
Surely there are still a few challenges that need to be overcome?
Mummy: Yes, because a move to mass production primarily involves improving the quality and reproducibility of 3D printing. The goal is to achieve the same level of quality we're used to in injection molding. One of the problems here is that it is difficult to predict the mechanical capability of the printed parts. The reason for this is that the printing material (filament) is applied layer by layer due to the technology involved. If there are problems with adhesion between individual layers this leads to failure of the component. This is a well-known issue with the frequently used printing filaments based on polylactic acid (PLA) or acrylonitrile butadiene styrene copolymer (ABS). Printing materials that are partially or entirely made of polyvinyl butyral (PVB), like Mowital, have an advantage in this regard.
What are the benefits of MOWITAL® for 3D printing?
Mummy: Printing filaments based on MOWITAL® make it possible to produce 3D-printed objects that can be subjected to higher mechanical loads. The material allows for higher rigidity and break strength in particular. MOWITAL® has excellent binding power – a key requisite for permanent adhesion of the individual printed layers. Another benefit of the material is that it does not present any health risk. Printing with MOWITAL®-based printing filaments generates practically no emissions and unpleasant odors. Plus, it is possible to produce top-quality surfaces with PVB printing filaments.
How exactly does it work?
Mummy: The surfaces of 3D printed objects are initially rough because of the many layers. To achieve a smooth surface they undergo a special type of polishing process, where the surfaces of the 3D prints are sprayed with an aerosol made up of micro-sized alcohol droplets. The individual layers fuse together and at the same time the object solidifies, with any unevenness on the surface being levelled out. This results in a surface that is visually extremely appealing, smooth, and shiny. In contrast to conventional PLA and ABS filaments, MOWITAL®-based printing filaments allow for the use of aerosol with ethanol, which is harmless to the environment and health. In the case of pure PLA filaments, it is not even possible to achieve smooth surfaces through polishing. And unlike acetone, which has a narcotic effect, and is used in ABS filaments, ethanol enables far more accurate control of the polishing process, and thereby superior quality.
Smooth surfaces for trendy designer products?
Mummy: Precisely, and there are other applications besides: high-quality packaging for cosmetic products, for instance. The uniquely low yellowness index of the material is also an advantage here. It means that accurate and high-grade coloring of the printing filaments is possible – for a perfect design. Many technical applications also require extremely smooth and exact surfaces to ensure the best possible fit of components, for example. MOWITAL® could in future help solve challenges in aerospace technology, machine engineering, and semiconductor technology.
MOWITAL® is compatible with many polymers. Where does this benefit come in with 3D printing?
Mummy: The compatibility of polymers used in printing filaments is decisive when it comes to the level of adhesion in objects that are made from different materials. MOWITAL® is compatible with a wide variety of polymers. As a result, completely new material combinations are possible. In our research and development department at our Kuraray site at the Hoechst Industrial Park, we have our own 3D printing laboratory, where we further develop and test filaments based on PVA and PVB, together with our POVAL colleagues. The tests have shown, for example, that PVB printing filaments achieve outstanding results in combination with MowiflexTM 3D 2000.
So, with the support filament from Kuraray, based on PVA…
Mummy: Yes, we've been supplying our own 3D printing filament for a while now, with MowiflexTM 3D 2000. This PVA-based material makes it possible to print support structures for complex, filigree, and overhanging objects. The distinguishing feature of MowiflexTM 3D 2000 is that it is water-soluble and can easily be washed off with water after printing, without any traces remaining at the contact points. PVA is also the raw material from which MOWITAL® is derived.
Hence the good compatibility?
Mummy: Exactly. Printing filaments based on MOWITAL®, like PolySmoothTM from filament manufacturer Polymaker for example, and our own filament MowiflexTM 3D 2000 bond extremely well. In this combination, the materials can achieve their full potential and provide outstanding print quality. For instance, there are no imperfections because of support material that does not adhere sufficiently to the printing filament.
PVB-based printing filaments are still niche products. Will this change?
Mummy: I'm sure of it. I expect PVB materials to grow substantially in importance in 3D printing in the future. The advantages of printing filaments based on MOWITAL®, for example, are huge. The material enables higher quality while at the same time making for a safer and simpler manufacturing technique. Thanks to the excellent material properties, we're creating 3D printing solutions of tomorrow.
---
Dr. Florian Mummy
has been in charge of the laboratory for research and development in the MOWITAL division at Kuraray since 2013. Kuraray is one of the leading manufacturers of specialty chemicals in the world, with a registered office in Tokyo and European headquarters in Hattersheim. Dr. Florian Mummy and his team are based at the Hoechst Industrial Park, where they develop high-performance PVB materials perfectly tailored to different technical applications. This includes binders for paints, lacquers, varnishes, and coatings, through to adhesives, films, and materials for additive manufacturing.
---
3D printing filaments: From water solubility to high performance
Thanks to their excellent chemical and mechanical properties, PVB materials MOWITAL® and PVA resins MowiflexTM are the solution for the challenges currently faced in 3D printing. As a high-performance printing filament and water-soluble support material, they offer new opportunities for 3D printing right up to industrial production:
MOWITAL® – for smooth surfaces and high mechanical performance
Kuraray's polyvinyl butyrals MOWITAL® have outstanding adhesive properties. MOWITAL®-based printing filaments make it possible to manufacture functional parts that can be subjected to high mechanical loads – with excellent break strength and rigidity
MOWITAL® also enables producing top-quality, smooth surfaces for design objects or technical applications in aerospace industries, for example
MOWITAL® is compatible with numerous solvents. Ethanol, which does not pose a threat to human health, can be used as solvent for surface finishing of 3D prints by means of polishing
MOWITAL® is also free from contamination. Printing with MOWITAL®-based filaments causes only minimal emissions and unpleasant odors
Printing filaments based on MOWITAL, like PolySmoothTM from filament manufacturer Polymaker, are highly compatible with water-soluble support filament MowiflexTM 3D 2000 from Kuraray – for optimal printing results
---
Mowiflex 3D 2000 – soluble in water for complex structures
MowiflexTM 3D 2000 is Kuraray's own 3D printing filament based on PVA
The water-soluble polymer blend enables printing of support structures for complex, filigree, overhanging, or moving parts
After printing, support structures made from this material can easily be washed off with water, without any contact traces remaining on the printed object
Another advantage is that the dissolved material is biodegradable and can simply be disposed of through waste water
---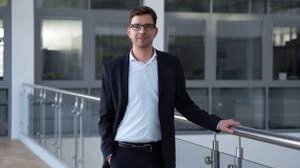 "Printing filaments based on PVB materials, such as MOWITAL®, provide the basis for promoting the development of 3D printing as an industrial production standard," emphasizes Dr. Florian Mummy, Research and Development Laboratory Manager at specialist chemicals manufacturer Kuraray. "Thanks to their excellent adhesive properties, the materials enable high-performance components to be produced, for instance for machinery."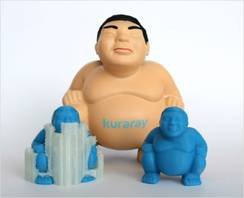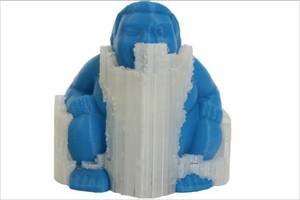 "MowiflexTM 3D 2000 is Kuraray's own 3D printing filament. The water-soluble PVA blend enables support structures for complex and overhanging objects to be printed and conveniently washed off after printing," explains Dr. Florian Mummy, Research and Development Laboratory Manager at Kuraray. "The material is extremely compatible with MOWITAL®-based printing filaments. The material combination makes for superb printing results."
About
Kuraray Europe GmbH was founded in 1991, and is based in Hattersheim near Frankfurt am Main. In 2016, the company generated annual sales of over EUR 600 million. It has 760 employees in Germany at its sites in Hattersheim, Frankfurt, and Troisdorf. Kuraray is a global specialty chemicals company and one of the largest suppliers of polymers and synthetic microfibers for many sectors of industry. Examples are KURARAY POVAL™, MOWITAL®, MOWIFLEX™, Trosifol®, and CLEARFIL™. The company also has around 100 employees at six other European sites, who are also working on the development and application of innovative high-performance materials for a wide range of sectors, such as the automotive, paper, glass, and packaging industries, as well as for architects and dentists.

Kuraray Europe is a wholly owned subsidiary of publicly listed Japanese company Kuraray Co., Ltd., which is based in Tokyo, and has more than 9,000 employees worldwide, and sales of over EUR 4 billion.
Dr. Bettina Plaumann
Head of KEG Communications & Marketing
Kuraray Europe GmbH
Philipp-Reis-Straße 4 65795
Hattersheim am Main
Tel.: +49 69 305 85797
E-Mail: Bettina.Plaumann(at)kuraray.com
Internet: www.kuraray.eu
www.elastomer.kuraray.com
Christopher Kampfmann
Wortwahl – Agentur für Unternehmens- und Onlinekommunikation (Agency for Business and Online Communication)
Bahnhofstraße 123
63263 Neu-Isenburg
Tel.: +49 6102 36678-22
E-Mail: kampfmann(at)wortwahl.de
Internet: www.wortwahl.de

>> Download this press release as an adobe acrobat document here